Working with students to reach 200+ community members: Emerald Ash Borer Science Talk
This fall, TCWC worked with a student group in Lewis & Clark College's ENVS 295: Environmental Engagement course, with Professor Jessica Kleiss. This course is designed to "offer students a practical experience in doing engagement—an admittedly broad concept we sometimes define as conversation toward action."; each group partners with an off-campus organization and develops a project that honors the organization's general mission and/or specific needs. For TCWC as we considered becoming a partner for the Fall 2022 term, an emergent issue that was a strong fit was the detection of Emerald Ash Borer (EAB) in Oregon, the first time the invasive insect was documented on the West Coast. (Read our blog post about EAB here)
TCWC worked with students Sylvia Barclay, Julia Inauldi, Elliot Pfeiffer, and Bella Stockholper, to do broad community outreach & education about EAB, during which we invited people from those neighborhood-based meetings to attend a Science Talk with Dr. Christine Buhl, State Entomologist at the Oregon Department of Forestry.
Early on, Julia and Elliot were able to join TCWC's Coordinator Alexis to attend a training in Forest Grove, to learn from experts and see the evidence of EAB in person (before the remaining trees were chipped). Shortly afterwards, Dr. Buhl was able to meet with the group and TCWC's Coordinator on-campus to discuss EAB and approaches to communication about it.
One of the first orders of business was developing the flyer – Elliot is a talented artist (he's an Art major & Environmental Studies minor), and we received many compliments on the flyer art he created!
We were able to guest present at 7 Neighborhood Association meetings in SW Portland and contacted several schools. We reached 68 people total in these meetings, where we provided a brief overview about the implications of Emerald Ash Borer in Oregon, as well as shared how to identify Oregon ash trees and symptoms of EAB infestation, and to respond accordingly. We had 18 conversations at the Hillsdale Farmer's Market, not including others with vendors (who are also stakeholders; while largely based outside of the watershed, EAB will have statewide impacts), and distributed 41 event flyers to businesses in Hillsdale and Multnomah Village (near the Lucky Labrador Pub, where the Science Talk was held) as well as throughout Lewis & Clark campus.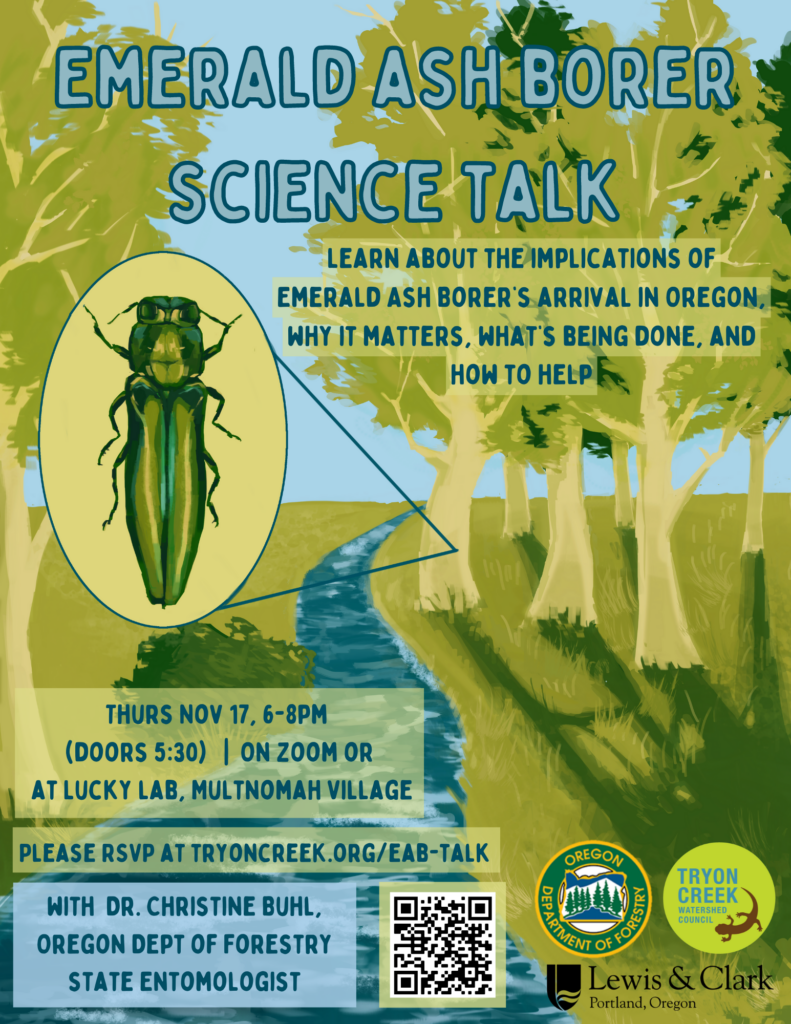 During the neighborhood presentations, we were also able to explain TCWC's availability to help watershed community members assess Oregon ash trees in their neighborhoods (in the case of concerns about EAB infestation), leading to a site visit which allowed us to conclude that the ash trees of concern were not exhibiting signs of EAB infestation. Because we know it is a matter of when, not if, Oregon ash trees will be killed by EAB, it was valuable to educate community members about the importance of learning to identify ash trees near them and to recognize symptoms of EAB.
Putting together a hybrid event –for the public to tune in via Zoom, as well as attend in-person at the Lucky Lab– was logistically complex, particularly to ensure people on Zoom could hear the speaker in an echoey venue (it used to be a Masonic Lodge, so sound is designed to carry well!). Being able to borrow technology from the campus IT department made a big difference! Thanks here go to our LC Student Representative Board Member Mateo Kaiser for the suggestion, and to our Board Member Danielle Goodrich for in-advance and day-of technology support.
We had over 100 people tune in for the talk: 48 people, not including LC students & TCWC, attended in person at the Lucky Lab, and another 60 attended on Zoom. The recording of the Science Talk can be found here, on our YouTube page. Because part of the students' project included measuring learning, Dr. Buhl incorporated polls into her presentation; again due to student capacity we -both TCWC and ODF- were able to more closely track the learning outcomes (compared to previous Science Talks and other EAB-related presentations, respectively), seen below. Overall, attendees felt more informed and confident in identification after attending the Science Talk.
We're grateful to Dr. Christine Buhl at ODF for being an engaging and fun speaker – that's important for a difficult topic! We're also gratfeul to the students for their hard work, and to Professor Jessica Kleiss for facilitating this course – this partnership was fruitful for TCWC, as it added capacity and allowed us to reach a wider audience than usual about an important issue. Importantly, thanks to our funders: our Science Talks are funded by the City of Portland's Community Watershed Stewardship Program, and TCWC's in-depth collaboration was made possible by the West Multnomah Soil & Water Conservation District and Clackamas Soil & Water Conservation District.
View the Science Talk recording on YouTube here
Below you can see the poster the students put together about their project for an end of term poster session, as well as some of the survey results from attendees.