Publications
BES Watershed Report Cards
City of Portland Bureau of Environmental Services (BES) publishes science-based watershed report cards on the health of Portland's rivers, streams, and watersheds. These reports are used to assess outcomes of BES restoration projects, and identify where additional work is needed. View the Tryon Creek Report Card.
DEQ Water Quality Status and Trends
Department of Environmental Quality (DEQ) produces an annual Water Quality Status And Trends Analysis reoprt. Tryon Creek Watershed water quality status and trends can be viewed in the Willamette-Lower subbasin Results Mapper.
USFWS Coastal Cutthroat Trout Health
U.S. Fish & Wildlife Service (USFWS) published a study that assesses the overall health of the Coastal Cutthroat Trout (Oncor hynchus clarkii) population in Tryon Creek. View the study: An urban stream can support a healthy population of coastal cutthroat trout.
PCC GIS Student Projects
Tryon Creek Watershed Council partners with the Portland Community College (PCC) Sylvania Campus GIS program, working with students on mapping and data analysis. View PCC GIS student reports and posters below.
Fish Passage Barriers
Read more about the main fish passage barriers in the Tryon Creek watershed, and work being done to remove them, here.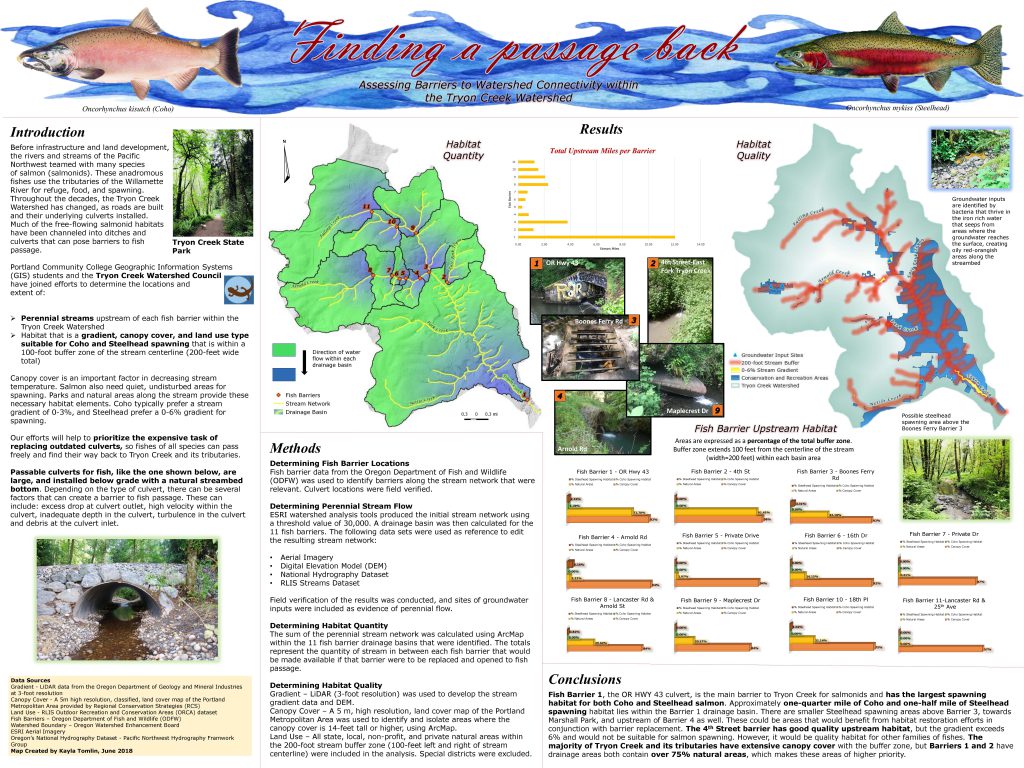 Restoration Projects
Note: The project above reflects projects managed by Tryon Creek Watershed Council; it does not encompass work areas by other agencies and partners such as West Multnomah Soil & Water Conservation Districts, Portland Parks & Recreation, Westside Watershed Resource Center, Oregon Parks & Recreation District, Friends of Tryon Creek, etc.