First and foremost, we acknowledge the area now known as the Tryon Creek Watershed has been stewarded since time immemorial: Throughout our work at Tryon Creek Watershed Council, we lean into opportunities to share more authentic cultural narratives. We are utilizing the land of the Clackamas Chinook, the Willamette Tumwater, the Wasco-Wishram, the Watlata, the Multnomah, and other Chinookan peoples, as well as the Tualatin Kalapuya, the Cayuse, the Molalla, and other tribes and bands of the Columbia and Willamette Rivers. We are here as guests of this land, and are here because of the sacrifices forced upon this place's original inhabitants. We will do our best to honor these peoples and work with them in stewardship of the water, land, and plants that make up this community.
Tryon Creek Watershed
The Tryon Creek watershed spans approximately 4,200 acres across two cities, including 3,300 acres in Southwest Portland and 900 acres in Lake Oswego. About a fifth of the watershed is in protected greenspaces and natural areas, including 650 acres of the lower watershed in Tryon Creek State Natural Area. The other eighty percent is urban, with houses, roads, schools and office buildings offering people places to work and live.
Watershed Assessment
TCWC worked with Danielle Goodrich, PSM, as she completed a Tryon Creek Watershed Assessment. Finalized in late 2019, the document compiles existing data and provides a thorough overview about the historical and current conditions of the watershed, as well as an identification of data gaps and recommendations for future cooperative management of the watershed.
Click here to view or download the Tryon Creek Watershed Assessment.
Click here to view Danielle's Watershed Assessment presentation.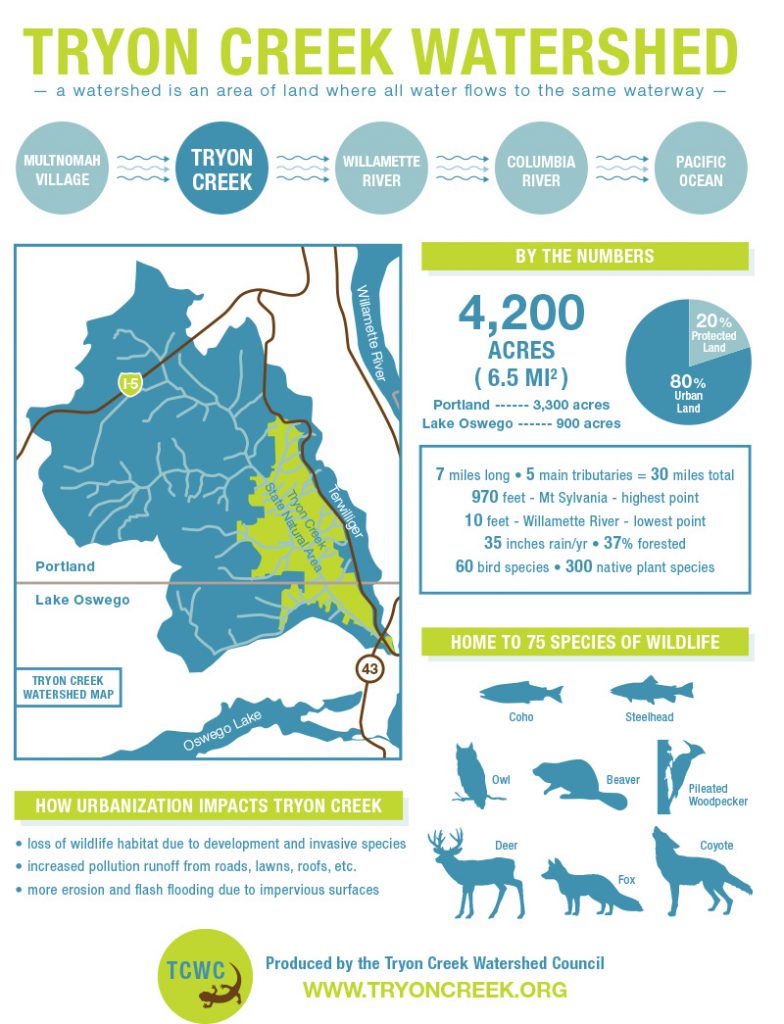 Interactive Map
Click here to view our Interactive Web Map. Toggle layers on and off and click on the features to learn more about the Tryon Creek watershed, including our neighboring watersheds and habitat connectivity.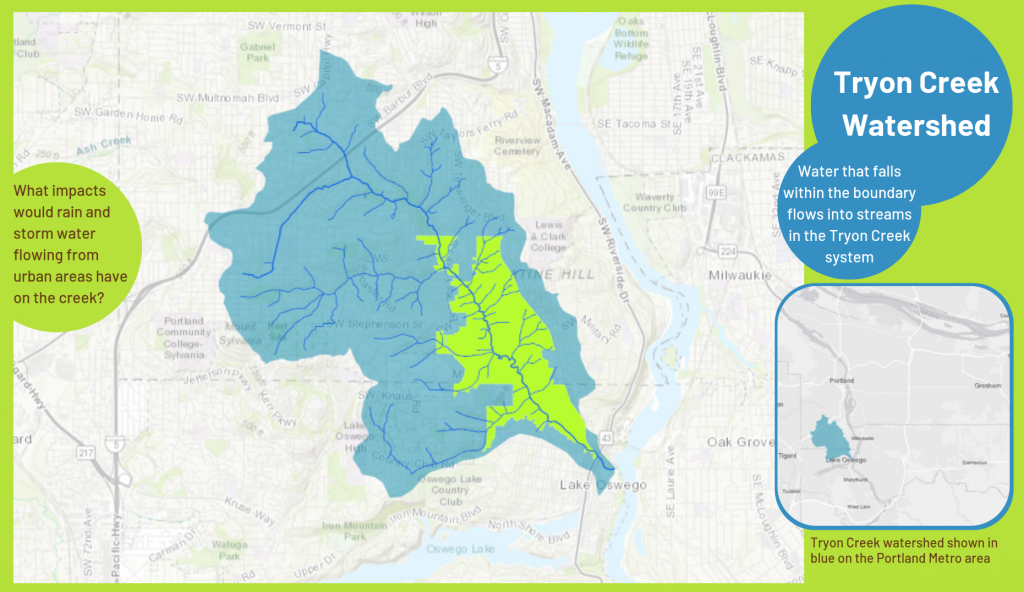 Tryon Creek
Tryon Creek is a seven-mile creek that originates in the West Hills of Portland and flows southeast through Multnomah Village to Tryon Creek State Natural Area, ending at its confluence with the Willamette River. Its major tributaries include Arnold, Nettle, Falling, Quail and Park Creeks.
Everywhere is a watershed!
Often watersheds are urbanized near the output point and undisturbed or rural at the headwaters. Tryon Creek is the opposite!
The Tryon Creek watershed is urbanized in the headwaters (Multnomah Village, I-5 corridor) and has its largest natural area close to its output point.
Fish and Wildlife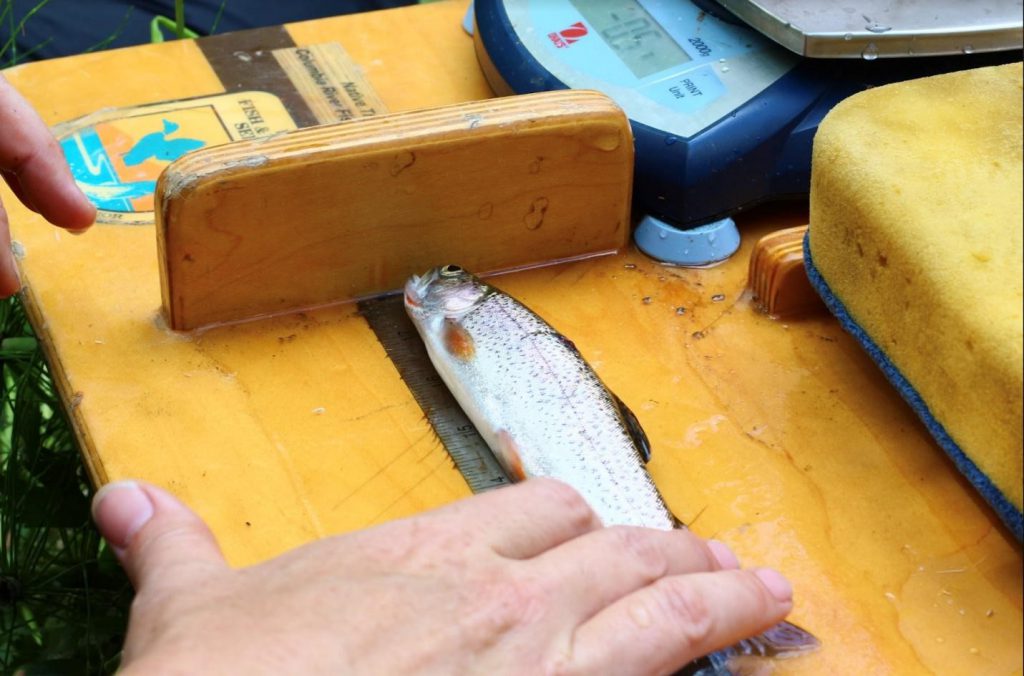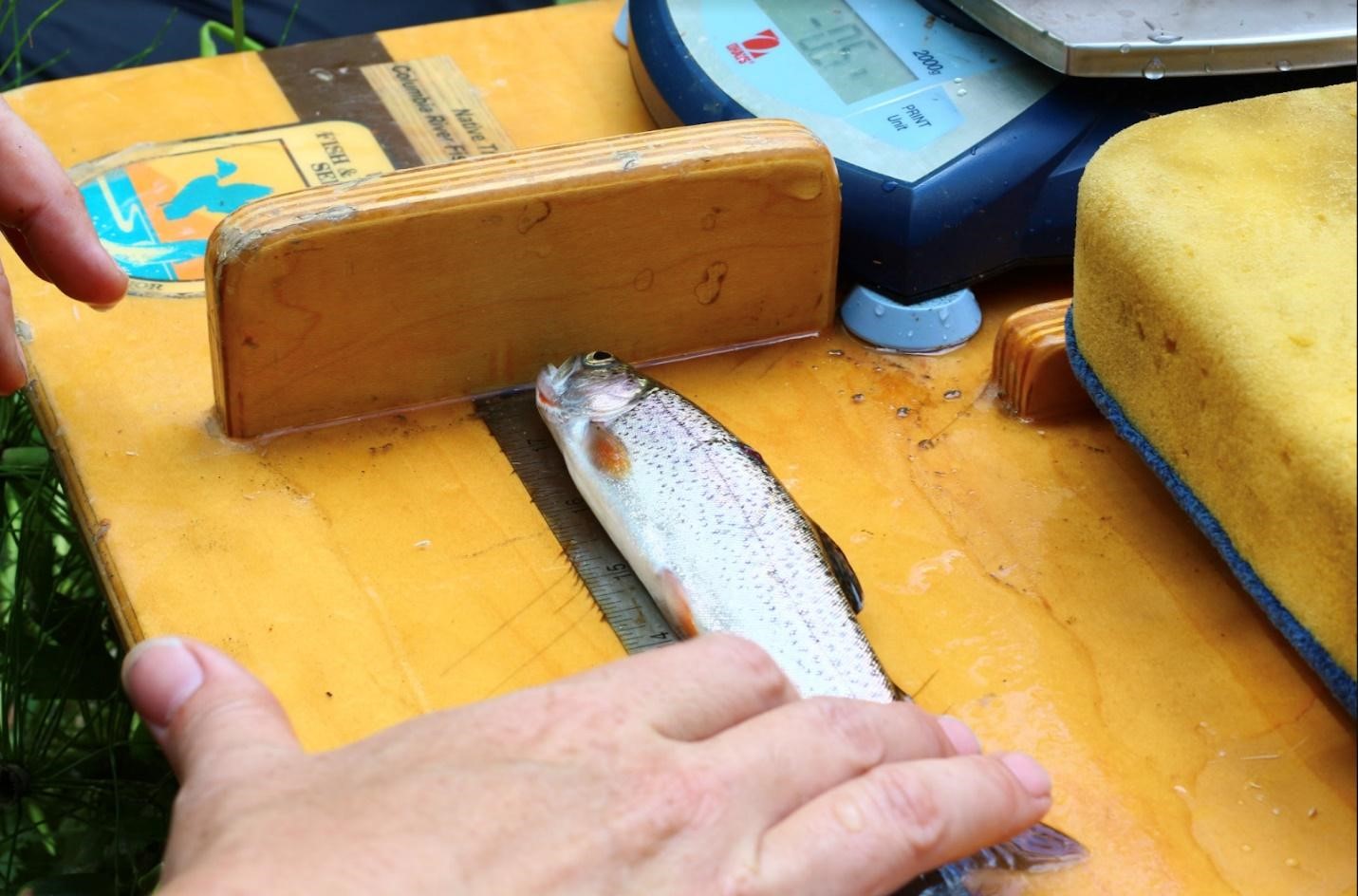 Tryon Creek's many streams, open spaces and forested land support a variety of plants and wildlife. Coyotes, deer, foxes, beaver and other large mammals live in parks and back yards, relying on interconnected greenways for food and shelter. Steelhead trout migrate to the upper reaches of Tryon Creek from the ocean. Birds count on our watershed's streams and wooded slopes for shelter during migration, or live with us year-round. Recently, listed Coastal Coho and Willamette Spring Chinook juveniles have been located in Tryon Creek.
The US Fish & Wildlife Service found the characteristics of Coastal Cutthroat Trout in Tryon Creek were similar to populations not influenced by urbanization. Their results suggest that Tryon Creek can serve as an example of a healthy fish population in an urban watershed. Read more at "An urban stream can support a healthy population of coastal cutthroat trout".
Click here for the full USFWS monitoring report, wherein they documented Tryon Creek's important role as a cool water refuge off the Willamette River for migratory salmonids making their way to or from the ocean.
Read about what we at Tryon Creek Watershed Council do to steward the watershed.