Planting Season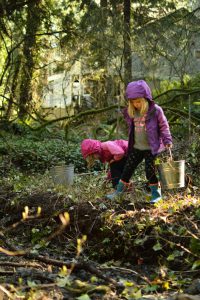 Planting season is here! We have been busy the past few weeks receiving our native plant orders and planting them at restoration sites. This is an exciting time when we work to improve the biodiversity and reintroduce native species in the Tryon Creek watershed.
We kicked off the season with our Native Plant Sale during President's Day weekend. During this sale, we sell native plants to the public for a bargain price of just $2 a plant. We had a wide variety of species, ranging from bare root trees and shrubs to potted flowers and ornamentals. Overall, we sold over 8,000 plants, which is an impressive number of natives that will be planted in the Portland metro area!
Now it was time to plant some of the extra native species from the sale at our restoration sites. On February 21, we hosted our annual Watershed Wide Event, which is our biggest volunteer effort every year. We welcomed 80 volunteers who worked at 8 different sites throughout our watershed. Most of the teams planted but there was some invasive removal, too. At the end of the day, our volunteers removed 30,000 square feet of invasives and planted over 900 native plants!