January – A time of invasive removal and celebration!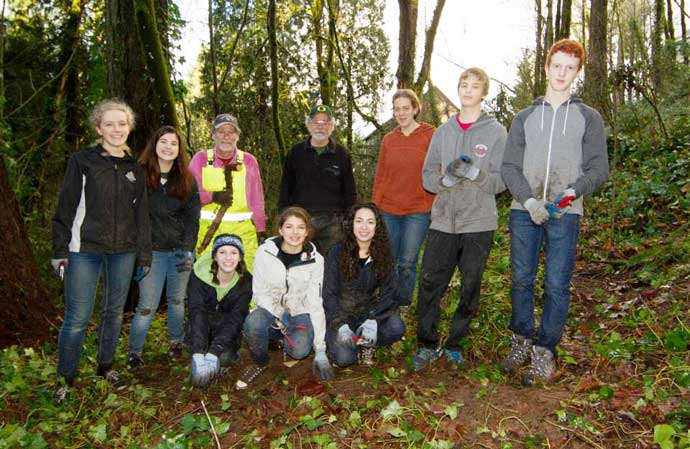 It has been a great start to 2015 for Tryon Creek Watershed Council. January has been unseasonably warm this year and we have taken advantage by hosting a few volunteer invasive removal work parties.
We celebrated Martin Luther King Jr. Day with the Key Club from Woodrow Wilson High School. A group of students meet with Watershed Coordinator Corrina and some of the local residents at the Oak Creek HOA, a new site to TCWC. The area is a communal space for the residents of the Oak Creek neighborhood which has become encroached by ivy and other invasive species.
The students set to work and were able to remove an impressive amount of ivy, despite the steep and slippery topography of the work site. The group focused on removing ivy from the trees in the area and were able to save 50 trees in total.
A special thanks to our site leaders: Corrina, Carl, and Mike! And also thank you to Marley Bennett, the student who organized the service day. Way to go, Marley!
On January 25, we hosted another small work party at an old restoration site along Deer Creek. The Watershed Council had a grant to work on this property a few years ago and was able to remove invasive blackberry and replace it with a variety of native plants over the course of a few years. The landowner, Laura, has done a great job maintaining her property on her own, but the ever pervasive clematis was giving her trouble. We reached out to her to see if she would like a few sets of extra hands to help tackle this invasive slowly sneaking up on her property and she says "Yes!"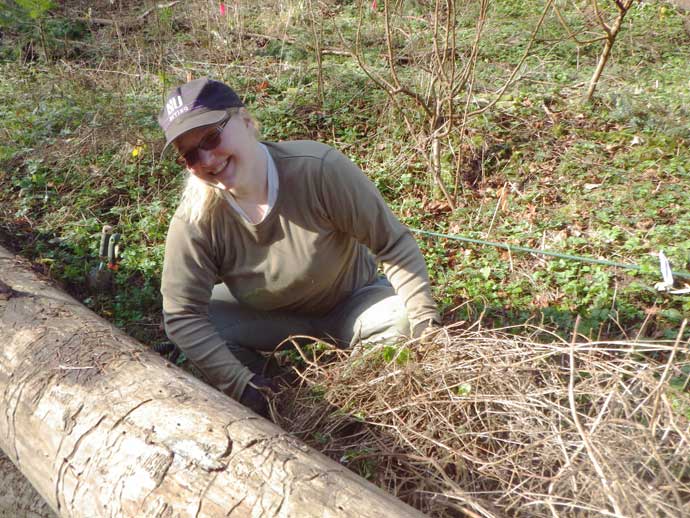 We had a group of two volunteers and Laura for the project. While the group was small, they were able to make a considerable effort on the clematis and removed 12 square feet of invasives. Thank you to Tyler and Haley, our two wonderful volunteers, for spending your Sunday afternoon helping us maintain the Deer Creek watershed!
We also celebrated our volunteer efforts in 2014 in the Nature Center on January 30. The event hosted a delicious array of snacks and beverages for volunteers, including beer from Sasquatch Brewery. After mingling and volunteer recognition, attendees were treated to an interesting and informative presentation on lichen in the Portland metro area, presented by local lichenologist Dr. Sarah Jovan. Those in attendance enjoyed learning about how lichens can be important and powerful indicator species for pollution levels. Finally, before departing, volunteers were treated to an exciting raffle, where some of our lucky volunteers won prizes such as handmade wooden cutting boards, free yoga passes, and a free kayak tour! Thank you to everyone who came to the event and thank you to all of our wonderful volunteers who make all that we do at TCWC possible!