Springtime in the Tryon Creek Watershed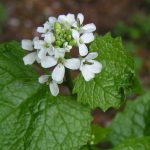 Have you been hiking around the watershed the past few weeks? If you have, you probably noticed springtime is in full gear and many plants have started blooming. Out in the field this month, we have noticed Indian plum flowering, trillium popping up, and salmonberry starting to bloom.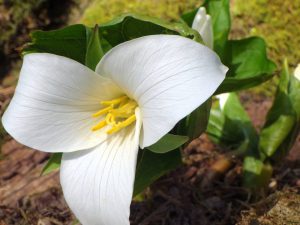 While it is enjoyable to see so many native species starting to flower, March and April are when several invasive species bloom as well. The benefit of the invasive species flowering is that it makes them much easier to identify. The downside is that several invasives spread through flowers, so it is critical that if you spot certain varieties in bloom on your property that you remove them. Some of the main culprits this time of year are garlic mustard, herb Robert, lesser celandine, scotch broom, shiny geranium, and spurge laurel.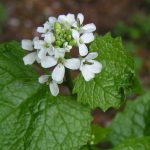 Lesser calendine, scotch broom, and spurge laurel require some special techniques when removing. If you find these species on your property, learn how to effectively control them. If you have any questions about invasive species removal, please contact West Multnomah Soil and Water Conservation District at 503-238-4775.
Garlic mustard, herb robert, and shiny geranium are easy to hand pull and should be done so throughout the month of April. These species spread very quickly so it is best to remove small patches as soon as they pop up – prevention is key!
Have a lot of garlic mustard on your property? The good news is that it is edible! So rather than just tossing it into your compost bin, you can use it for some delicious recipes! Garlic mustard pesto is our personal favorite and the recipe is as follows:
Garlic Mustard Pesto
Ingredients:
3 cups garlic mustard greens, rinsed and patted dry
1/4 cup of pine nuts or walnuts
1 teaspoon garlic mustard root, sliced
2 cloves of garlic, chopped
1/4 cup Parmesan cheese, grated
3 tablespoons of virgin olive oil
salt and pepper to taste
Directions:
Pulse the garlic mustard greens in a food processor with the nuts, garlic mustard root, and cheese. Then, with the motor running, slowly pour the oil through the spout. Toss with pasta or spread on crusty bread – enjoy!