Let's talk about Turtles in Tryon! Science Talk
Join us during lunchtime on Zoom on Tuesday, April 12th, for a science talk about turtles in the Tryon Creek watershed. Laura Guderyahn (currently a PhD student at Portland State University and Member of the Northwest Ecological Research Institute), will talk about native turtles in Oregon, where she is finding turtles in the Tryon Creek watershed, and what you can do right now to help native turtles.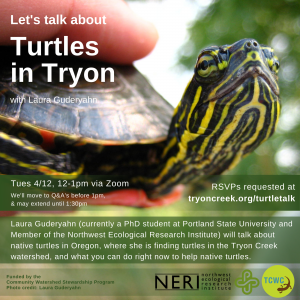 This presentation will be held via Zoom: When you RSVP on the Google Form, we'll send an email with Zoom conferencing information, and another day-of.
The talk will be from 12-1pm including Q&A's, but we may extend Q&A until 1:30. (We want to make sure you can move on with your day, but want to make space in case the conversation is lively!)
Brought to you by Tryon Creek Watershed Council. Thanks to BES' Community Watershed Stewardship Program for funding our Science Talks! Feel welcome to spread the word via our Facebook event!