No Ivy Day 2023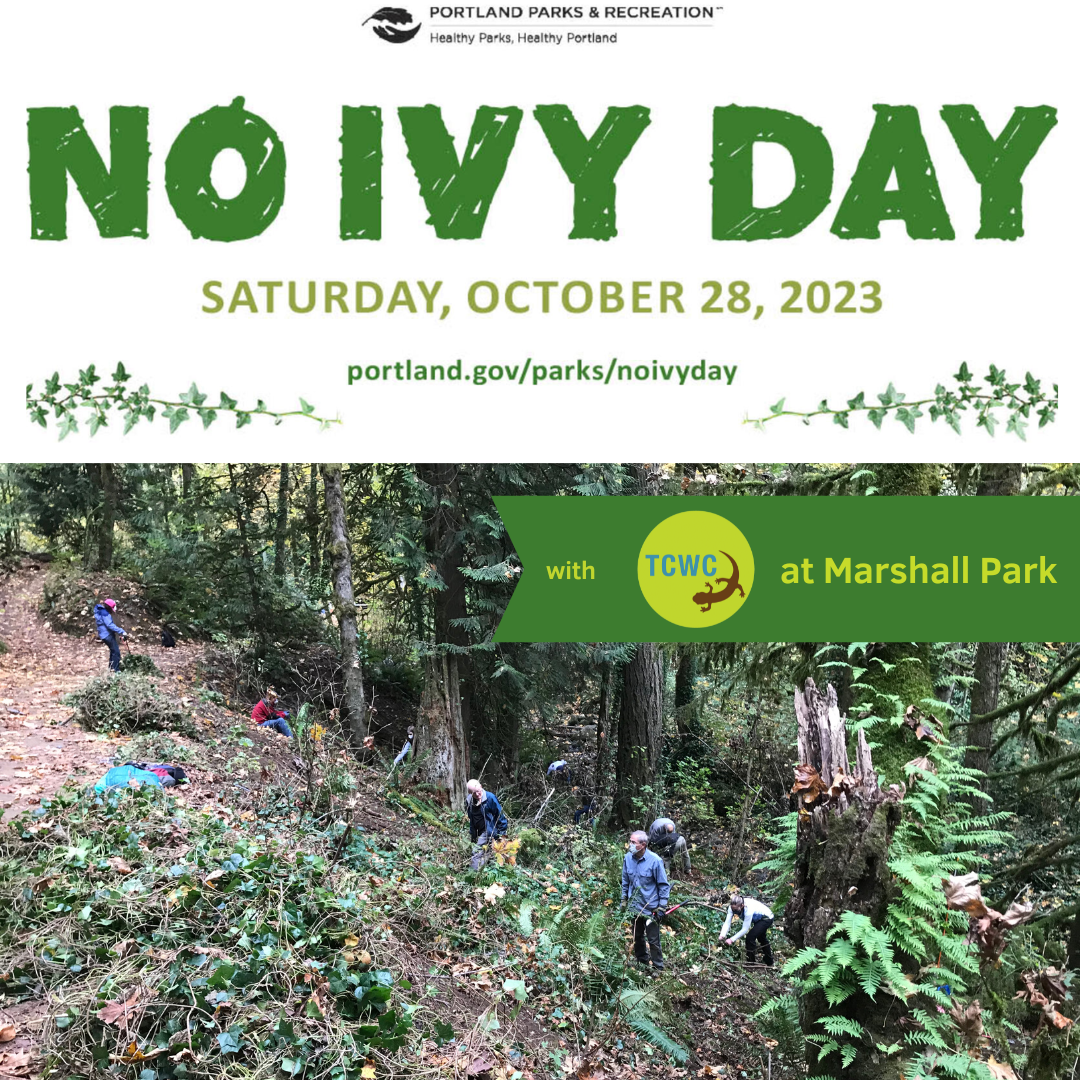 Join Tryon Creek Watershed Council for a morning of ivy removal at Marshall Park, through which flows the main stem of Tryon Creek, which supports a healthy coastal cutthroat trout population.
20th Anniversary: No Ivy Day!
9am-12pm, Saturday October 28, 2023
Join us in supporting the unique urban Tryon Creek watershed by volunteering with us to remove invasive plants at Marshall Park. We've supported volunteer events at this site for several years!

Volunteer notes:
Volunteers will be working off-trail on uneven ground.
Dress in layers for the weather (hats, close-toed shoes you can get muddy, etc.) and bring your own, full water bottle and snacks.
Gloves and tools will be provided as needed; please consider bringing your own if you are able.
Masks are welcomed, and please stay home if you have been exposed, are experiencing symptoms, and/or test positive for COVID-19 (& other illnesses). 
Instruction, tools, gloves, and snacks are provided and there's a port-a-potty on-site.
Thank you!! We are always excited for No Ivy Day, and can't wait to make a positive on-the-ground impact together!
Address: Meet near the playground; park near 9200 SW 12th Dr (dead-end/turnaround)
Note: Some phone/maps may not take you all the way down SW 12th, so if it's your first time to Marshall Park be sure to look online ahead of time.
Directions: From SW Taylor's Ferry Rd, turn east/downhill onto SW Taylor's Ferry Ct, then S onto SW 12th Dr., and drive down to the dead-end/turnaround at the end of SW 12th.