Emerald Ash Borer: Community Training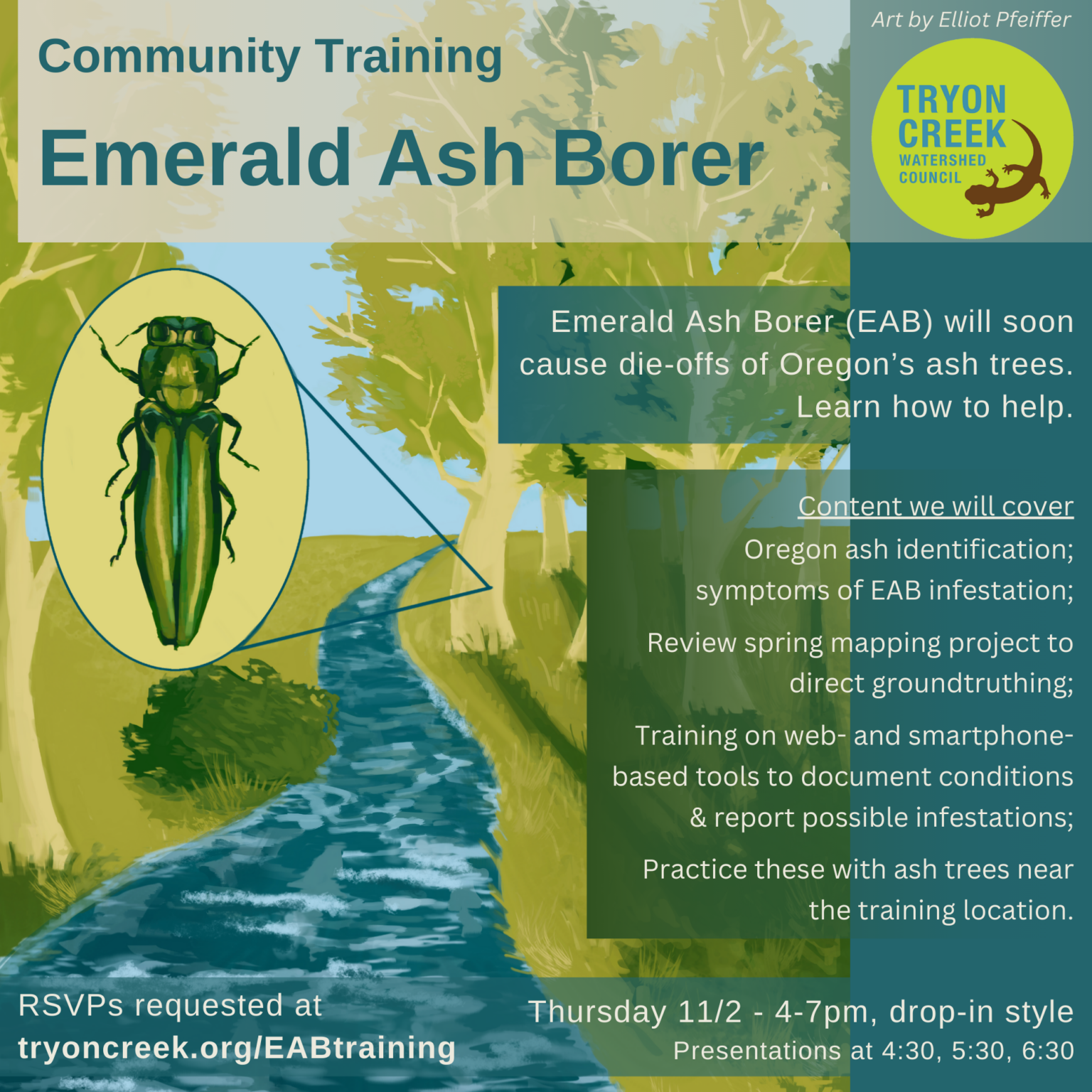 Emerald Ash Borer (EAB) will soon cause die-offs of Oregon's ash trees. Learn how to help.
The Emerald ash borer (EAB) poses a serious, devastating risk due to the high mortality level they impose on ash trees: Oregon ash grows along creeks, providing shade & erosion control. Emerald ash borer ("EAB") was documented in Oregon for the first time in summer 2022, not far from the Tryon Creek watershed in Forest Grove.
We hosted a Science Talk with Dr. Christine Buhl, the Oregon Department of Forestry's State Entomologist, to educate community members on how to identify signs of Emerald Ash Borer in Oregon ash trees. It's important that members of the public know what to keep an eye out for and how to share data with experts. The earlier we detect EAB hotspots, the more effective scientists and land managers' efforts to slow the spread.
In the interest of gathering an inventory of Oregon Ash and monitoring for inevitable Emerald Ash Borer infestations in the Tryon Creek watershed, Tryon Creek Watershed Council is mobilizing trained volunteers to gather field observations of Oregon Ash and their conditions throughout the watershed starting in fall 2023. In spring 2023 we worked with PCC GIS student Joseph Stout who created a suitability map identifying likely habitat for Oregon Ash in the watershed, as well as a form in Survey123 that users can fill out to document location and health indicators for Oregon Ash. To provide community members with a chance to either learn or refresh themselves on Oregon ash identification, we're providing an in-person community training on Thursday, November 2nd.
Thursday 11/2, 4-7pm: Drop-in style; presentations will be at 4:30, 5:30, & 6:30pm.
We will present on Oregon Ash identification and symptoms of Emerald Ash Borer infestation.
We will review this years' mapping project to direct groundtruthing efforts.
We will provide guidance on best reporting practices, and provide training on how to use web- and smartphone-based tools to document conditions and report possible infestations.
We will be able to put these into practice with ash trees near the training location.
Likely to be held at Tryon Creek State Natural Area's Nature Center (RSVP to receive final location info).