TCWC's Watershed 101 Workshop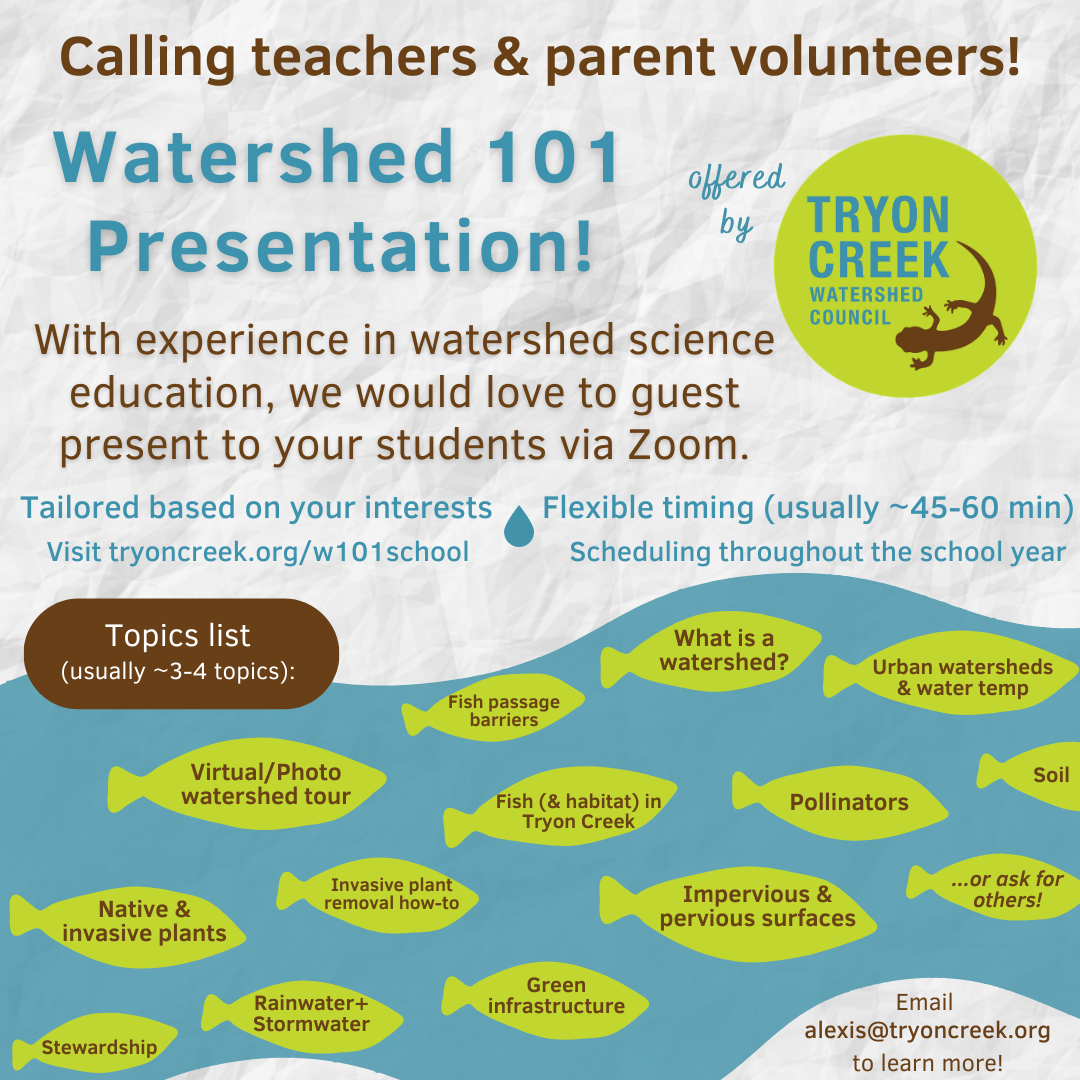 Tryon Creek Watershed Council's Watershed 101 Workshop program:
Each fall and spring, we seek to work with groups to share watershed science education and implement hands-on restoration in the Tryon Creek watershed. We have a flexible workshop presentation that can be tailored -in topics and duration- based on your group's needs and interests. We've successfully delivered watershed science education to youth and adults via Zoom as well as in person.
We've delivered our workshop program to many audiences, including schools and student groups (PCC Sylvania, high schools, and elementary classrooms – recommended 4th grade & up), and community groups such as Neighborhood Associations or Homeowners Associations, informal groups of friends and neighbors, colleagues at organizations, and more.
In-person volunteer events: We can provide tools, gloves, and native plants and can teach best practices on invasive plant removal and native plant installation. We're excited to facilitate restoration to pockets of greenspaces throughout the watershed!
Depending on each group and COVID precautions, we can deliver the presentation indoors then head outside for hands-on work, or we can split the two portions into different days or online-only.
We schedule throughout the fall, winter, and spring. With about 3-4 topics the presentation runs about 45 minutes to an hour (depending on topics, level of interactivity, age group, etc.). We've found it works well to split the presentation into a multi-part series for continued learning and engagement.
The presentation can focus on a selection of a variety of topics to build a sense of place and understanding of watershed stewardship. Available topics include:
Explaining "what is a watershed?"
Virtual/Photographic Tour of the Tryon Creek watershed
Native and invasive plants
Invasive plant removal basics
Pollinators
Soil health/science
Impervious & pervious surfaces
Rainwater → Stormwater
Green infrastructure
Fish presence & habitat in the Tryon Creek watershed
Fish passage barriers
Urban watersheds and water temperature
Please email alexis@tryoncreek.org to coordinate!
The Watershed 101 Workshop Program is funded by City of Portland's Bureau of Environmental Services' Community Watershed Stewardship Program.
The below flyer is specific to teachers, but much of the content applies for all groups: