Virtual Spring Break with ORCAS Students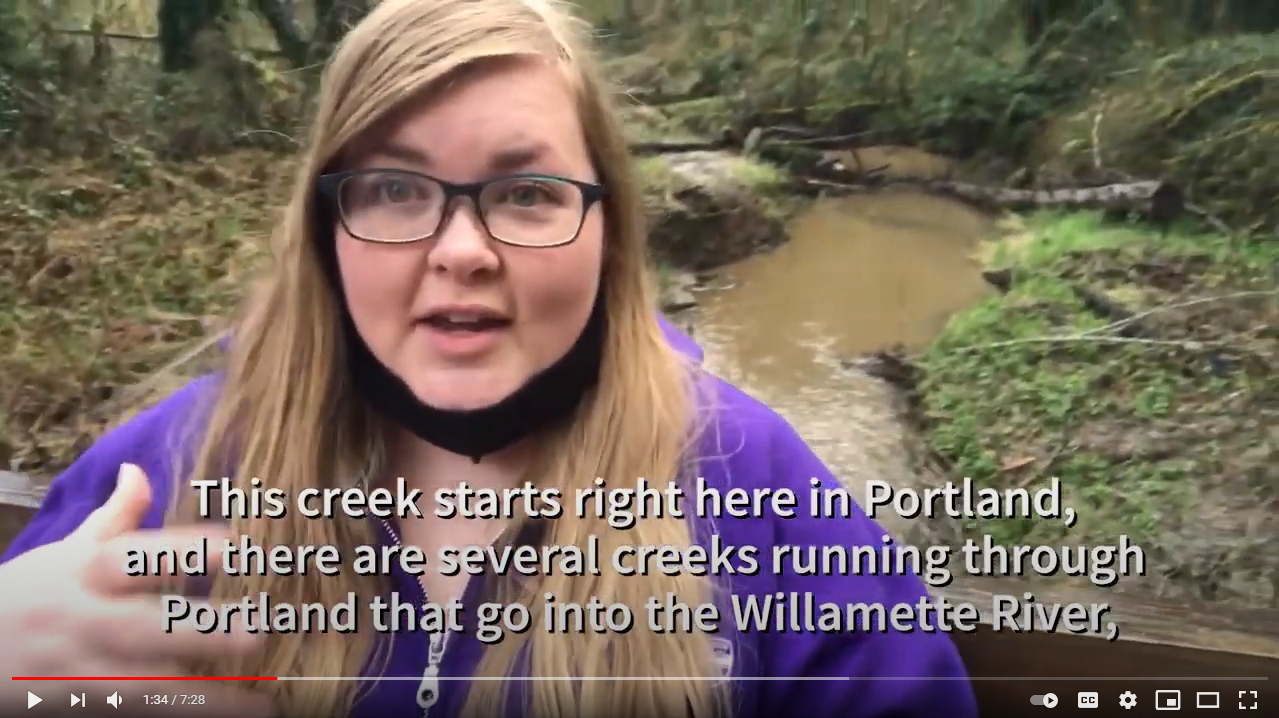 Each spring, Tryon Creek Watershed Council welcomes a group of students from the Oregon Refugees Children's Assistance Services Program (ORCAS) to the Tryon Creek State Natural Area. This is a special opportunity for the Watershed Council to welcome new Portlanders to Oregon. For many of the students, it's their first time visiting Pacific Northwest forest, and on our hike we share about watershed health in the context of our region (especially regarding urbanization!). This year, due to COVID-19, we weren't able to welcome the group to the park in person, but we were still able to connect:
When our Spring Break trip with ORCAS students happens in person, multiple staff members provide translation for several different language groups. We knew that translation into multiple language groups in one Zoom meeting would be tricky, and with ORCAS staff input, we created a video welcoming students to Tryon then met in small groups with staff members and students by language group, to watch the video together and have more conversation.
ORCAS students don't necessarily live in the Tryon Creek Watershed, so in the video we made sure to explain watersheds conceptually rather than just the Tryon Creek watershed. We connected the Portland metro area to the Pacific Ocean, and explained anadromous fish movement. After watching the Virtual Spring Break video together each time, pausing for translation with some groups, we brought Google Maps up on screen-share and identified natural areas and creeks near where the students themselves lived. Thanks to Street View, we were able in some cases to show students the route from familiar intersections to parks and creekside areas, so that they may more readily venture to these pockets near them.
One of the highlights of our several online sessions was with the Arabic-speaking student group, when at the conclusion of the video, the interpreter said "wait just a moment", stood up with her computer and stepped outside. She turned around, and behind her was a beautiful view of some forested hills and a rushing river! It turns out that she lives in Welches along the Salmon River, and we simply asked her to share about what she enjoys about spending time outdoors here in the Pacific Northwest. Representation in the outdoors is so important, and this moment felt extra special. We were able to connect the river in her "backyard" to the Sandy River's confluence with the Columbia just outside of Portland. The ORCAS staff members who have come on the spring break trip to Tryon before also shared about their experience, encouraging students to look into visiting Tryon and other natural areas and parks with their families. 
We have our fingers crossed that next year, we'll be able to welcome students to Tryon Creek State Natural Area in person.
Our Spring Break trips with ORCAS are a modified Watershed 101 Workshop, a program funded by the Community Watershed Stewardship Program through City of Portland's Bureau of Environmental Services.