Planting at Boones Ferry culvert project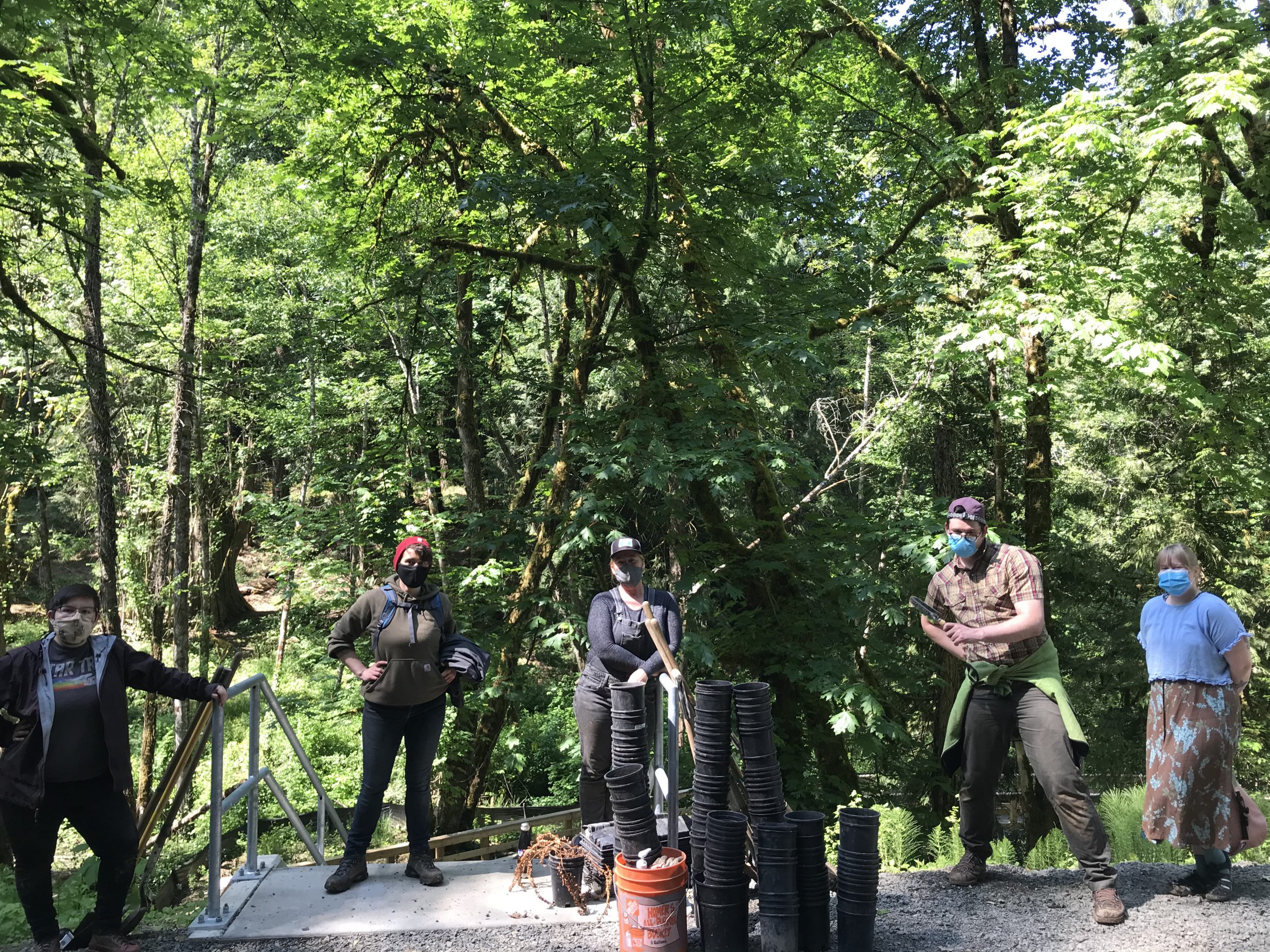 When the Boones Ferry culvert project began, we knew it would be a great chance to bring community members together on-site. On May 22nd, we were able to hold a planting event with Friends of Tryon Creek & Oregon State Parks. With 11 volunteers, we installed 360 plants!
It was a joy to have a hands-on part in this long-awaited project which has opened up passage and habitat for fish, wildlife, and pedestrians.
Just over 200 went in along the pathway parallel to the bridge on the downstream side – with rocky soil, these were hardy little pots of fringecup and geum, as well as sword ferns. In a little wetland-type area parallel to Arnold Rd, about 150 native plants (including some beauties! Trillium, Western columbine, Hooker's fairy bells, salmonberry, and more!) from OPRD, TCWC, and FOTC, were installed.
This was one of those volunteer events where partway through, we all wondered if we would even get close to planting everything… and ultimately, we did it!
Thanks to Bureau of Environmental Services for setting some plants and space aside for us, and to Friends of Tryon Creek & Oregon State Parks for the co-planning and co-facilitation!
One of our work areas as viewed from above

Rocky soil made for hard work – thank you, volunteers!!

Rocky soil made for hard work – thank you, volunteers!!

Hardy natives like fringecup & geum were installed from 4″ pots

Some sword ferns were also installed

Hardy natives like fringecup & geum were installed from 4″ pots
One of our work areas viewed from above. We worked to the left of the fence in the shaded area; note Arnold Creek in the lower right corner

Believe it or not, the railing was lined with plants *twice*!

Believe it or not, the railing was lined with plants *twice*!

Believe it or not, the railing was lined with plants *twice*!

Great crowd of volunteers!

Western red-backed salamander buddy was relocated

Western red-backed salamander buddy was relocated

Willow stakes leafing out and ducks joined us for a while too

Hookers Fairy Bells + other beautiful native plants

Western Columbine + other beautiful native plants

OPRD's Nicole and TCWC's Alexis

The view from the pathway near our project area, showing the confluence of Tryon and Arnold Creeks

Yellow-spotted (cyanide-producing!) millipede