Pedalpalooza Bike Tour (Sunday, June 14, 2015)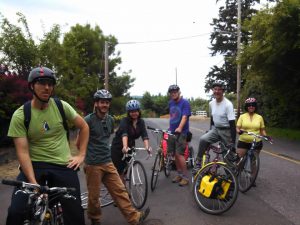 Sunday, June 14th 2-5pm
Meet at Riverdale High School parking lot (9727 SW Terwilliger Blvd, Portland, OR)
Bring your bike, a helmet, water, and bright clothing.
Join Tryon Creek Watershed Council as we explore Tryon Creek by bike! This bike tour allows you to fully experience how topography, canopy cover, and urbanization affect our watershed. This will be a fun and educational ride lasting approximately 8-9 miles with many stops along the way. Route will be a mix of bike path and road with no-to-little shoulder. Please bring your bike, helmet, water bottle, and bright clothing. The ride will be quite hilly so make sure those tires are fully inflated and that your gears and brakes work properly. Participants are invited to join us at Tryon Creek Bar & Grill following the event.