ORCAS at TCSNA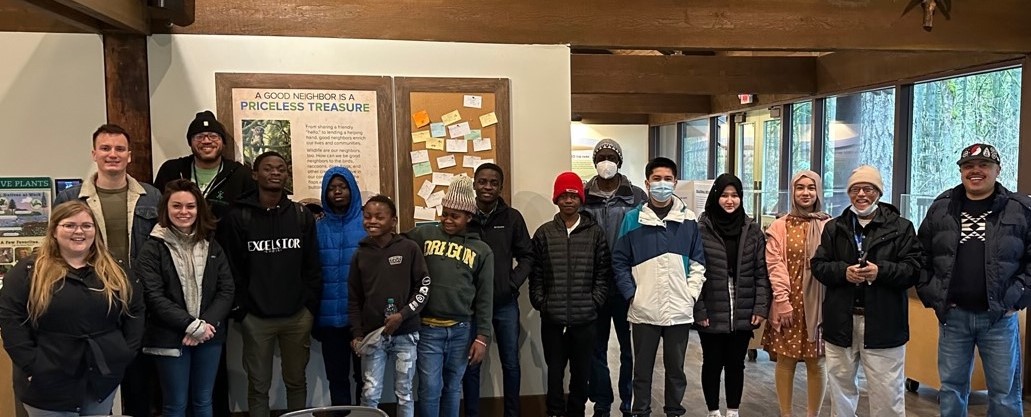 We had a really great time out and about in Tryon Creek State Natural Area this spring, with a group from ORCAS (Oregon Refugee Childrens Assistance Services)! Since 2015, aside from a few pandemic-related years, TCWC has had the honor to welcome young new Portlanders to the forests of the Pacific Northwest.
Staff members help to translate if/when needed and, rain or shine (this year, rain), we spend time both in the nature center -being welcomed by Friends of Tryon Creek- as well as out on a hike through the park to try licorice fern, spot banana slugs, meet the creek, and more. This is one of the formats of our Watershed 101 Workshop, and is a wonderful day each year.
Staff who have returned year after year helped to share what to expect for students. This year the ponchos were very much needed! Because it was a cooler day, we took our time in the Nature Center waiting for different groups to arrive. Jonathan with the Friends of Tryon Creek shared their land and labor acknowledgements and we welcomed them to the forest. On our hike we had laminated printouts to help share about watersheds, migratory fish, passage barriers, and various other topics. A plus side to the rain was found in multiple banana slug sightings!
After warming up in the Nature Center with lunch, we said farewell. Some -but not all- of the students already knew one another, though by the end of the day, having spent time out and about and with several outgoing and comical personalities, we (staff) noted students feeling more confident with one another.
Thanks to the City of Portland Bureau of Environmental Services' Community Watershed Stewardship Program (CWSP) for funidng our Watershed 101 workshops!