Fall Restoration Work Party Season Has Started!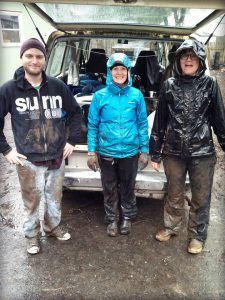 We at TCWC are enjoying the cooler temperatures and rainfall the past week. It's great for native plants, water temperatures, and also marks the beginning of our fall restoration season!
Many people expect summer to be our busiest season for outdoor work parties – this is when it is most pleasant for our volunteers to be outside, after all. However, we tend to do the majority of our restoration work in the rainy fall, winter, and early spring months. While these conditions are cold and wet for our volunteers, they are ideal for removing invasive species and planting native plants.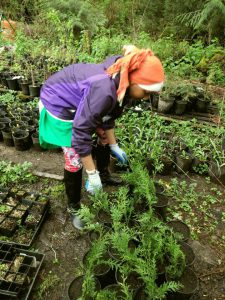 Trying to pull ivy when the ground is dry and brittle is no easy task – and it often leaves roots in the ground from which more ivy will regrow. Waiting until the ground is wet and soggy means it is easier to pull up the entire roots of invasive plants. Planting natives works better in the rainy and dark months, too, as planting them in their dormant stage improves their survival rate. The rain also keeps plants well-watered during the first few months of their establishment period – no hand watering or irrigation required!
So these are a few reasons why TCWC hosts so many volunteer events during the fall-early spring each year. We will be kicking off the season with our first work party on September 19 and hope you can join us for one or all of our work parties this fall!
Work Party Calendar (Updated): October 24 – No Ivy Day Work Party 9am-12pm. Meet at 313 SW Palatine Street. Pre-register and receive a free t-shirt!! (TCWC site is Arnold Creek) November 21 – Spring Garden Planting 10am-3pm. Meet at 2132 SW Primrose St. Delicious homemade lunch served at 12:30. Please join us for the entire work party or stop by for any amount of time.
Please wear closed-toe shoes and long pants to every work party. TCWC will provide tools, gloves, and snacks. We work rain or shine so come dressed for the weather!
Questions? Get in touch with our Volunteer Coordinator Adra at volunteer@tryoncreek.org