A Day with Vanderbilt Alternative Spring Break students!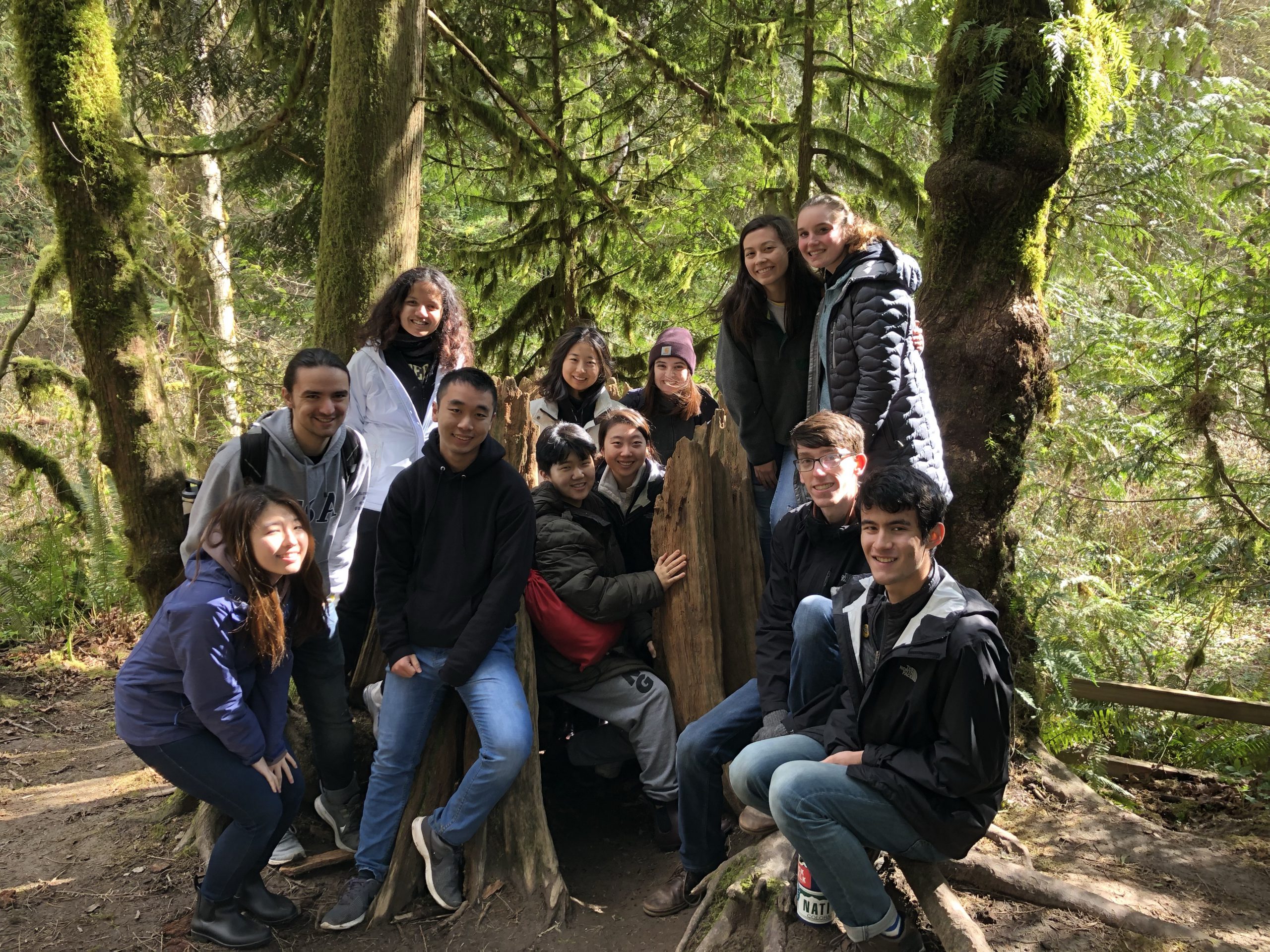 Each springtime, Tryon Creek Watershed Council is lucky to work with a group from Vanderbilt University's Alternative Spring Break program. This program mobilizes groups of students who spend their spring break doing meaningful service projects in many cities across the U.S., and this year our day with Vanderbilt ASB students was a beautiful one! This is Alexis, TCWC Program Coordinator, writing.
We met just past 9am on Tuesday March 3rd, at the Nature Center at Tryon Creek State Natural Area. After giving some time for students to read the interpretive signage, we all moved to the Jackson Shelter to talk further about our day. The general outline of the day was for us to go on a guided, educational hike followed by a work party – or, our Watershed 101 Workshop adjusted to be all-outdoors instead of education through a presentation! I learned about the students (many sophomores, and many on the track towards medical school) in order to appropriately focus the level of information. Because the realm of work that TCWC engages in was largely new to them, I began with an overview of the life cycle of salmon and the origination of watershed councils, introducing a few key issues that stewardship-based organizations particularly in urban areas focus on.
An early inquiry about moss led to a discussion of ethnobotany and the western environmental community's ongoing engagement with tribal groups. Along the hike, the students gamely tried licorice fern rhizome, craned their necks to see rectangular Pileated woodpecker holes, and saw evidence of the history of logging in the park.
One of my favorite moments was when I asked the students to surround a large western red cedar tree, and after giving them a moment to wonder why I had invited them to do so, told them to look up. The ensuing "oooooohhhh"s made me laugh in shared delight, and I had to take a picture of all of them taking photos of the trunk-up view.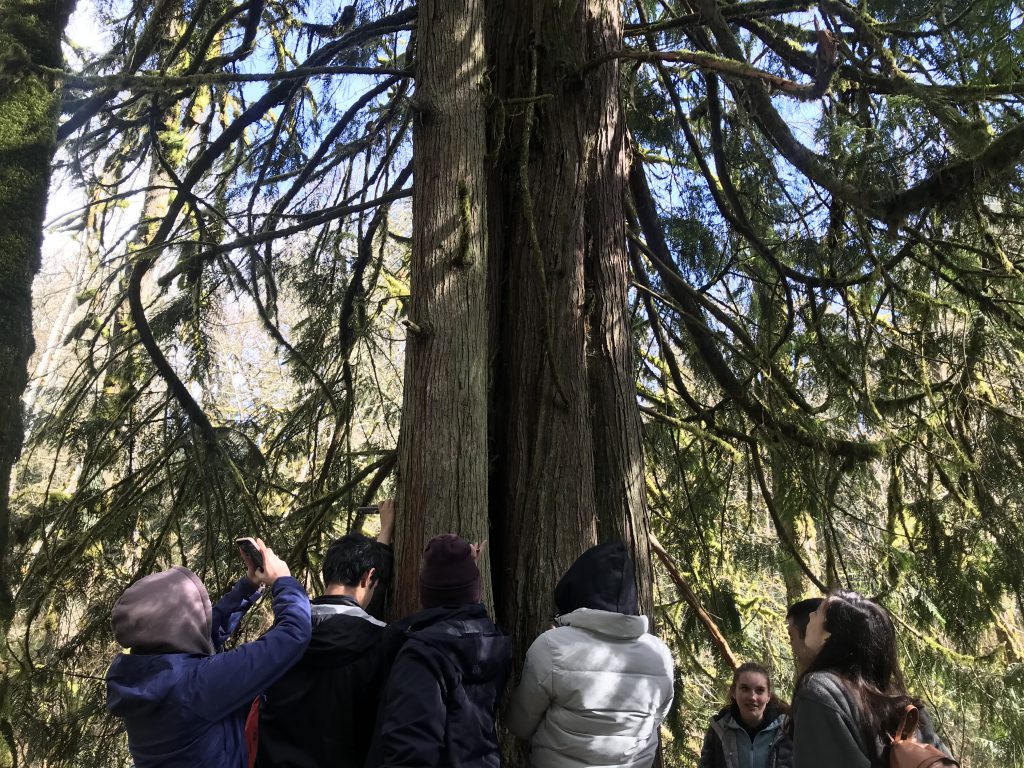 When we reached High Bridge, over Tryon Creek, we paused for a while. We observed the riffles oxygenating the water, discussed canopy cover as a way to cool down the water, and noted gravel beds as preferred egg-laying habitat compared to sediment. We also honed in on urban influences, particularly pervious vs. impervious surfaces (or permeable/impermeable, such as the park around us vs. parking lots and roofs) and their impacts on hydrology, pollution, and more. This connects well to green infrastructure such as bioswales, and other impacts of urbanization. I explained about the Highway 43 culvert and fish passage barrier issues. This was a natural segue into examples of science and careers in the environmental field, such as environmental engineering, macroinvertebrate sampling, and more.
A highlight for all of us was when, while in the middle of pointing out a beaver chew and discussing their role as ecosystem engineers, someone spotted a banana slug. I had encouraged them to keep their eyes out for one and was so glad to be able to pick it up – much to their initial surprise, too! As the slug woke up and its feelers began reaching out, students got to take a good look and hear about what it feels like when a slug tries chewing on your finger! This became another hands-on moment, as a few students let the slug meander across their hands. With a stop at a few trees grown out of now-decomposed nurse logs, we made it back to the Nature Center only a bit behind schedule. We enjoyed lunch on the Trillium Trail's lower deck before loading up for the short drive to Boonesferry Terrace.
Boonesferry Terrace is the name of an HOA that has a shared Natural Area space, and a cohort of neighbors dedicated to stewarding this shared slice of the watershed. Longtime residents Mark McKinstry and Carolyn Carr have been working with West Multnomah Soil & Water Conservation District, Tryon Creek Watershed Council, and their neighbors, to minimize the spread of invasive species. Mark introduced Vanderbilt ASB students to the work area by sharing about Portland's Urban Growth Boundary and how zoning led to this shared greenspace. He also showed samples of the target species that we spent the afternoon working on. Carolyn showed the group a binder she's been keeping filled with photos and information about the space, and passed out brownies before the work began!
After determining roles and getting set with gloves and tools, we walked through the site before focusing in on our work areas. Two groups of four focused each on clematis and Armenian blackberry removal, two students were working on less severe infestations of English Ivy and Herb Robert, and two were cutting the larger invasive plants into smaller pieces to fill into the brown yard debris bags. Mark, Carolyn, and I each alternated between answering questions, checking in with groups, and removing invasive species. We were all lucky to have the sun shining on us! With a break partway through the afternoon to switch up jobs (and for brownies), by the end of the day we filled nine (!) yard debris bags.
Thanks to Vanderbilt University's Alternative Spring Break students for your valued hard work, to Carolyn, Mark, Paula, and other Boonesferry neighbors for your continued dedication, to Westside Watershed Resource Center for loaning tools, and to BES' Community Watershed Stewardship Program for funding our Watershed 101 Workshop Program.