Emerald Ash Borer (EAB) – Science Talk
Thank you to everyone who joined us at the Lucky Lab and on Zoom last week! Here is the recording link (Dr Buhl's presentation begins at 9 minutes in); here is a post-event survey link.
Join us at the Lucky Lab, or on Zoom, on Thursday 11/17 for a talk by Dr. Christine Buhl, Oregon Department of Forestry Entomologist. Learn about the implications of Emerald Ash Borer's arrival in Oregon, why it matters, what's being done, and how to help.
RSVP here to attend the talk in-person at the Lucky Lab in Multnomah Village,
or RSVP here to attend the talk online via Zoom.
All attendees will receive the recording link afterwards!
Dr. Christine Buhl is a graduate of Oregon State University and the University of Wisconsin-Madison. She has served as an entomologist from Hawaii to the country of Lebanon on projects spanning from public health to chemical ecology. She currently serves as the state Forest Entomologist with the Oregon Department of Forestry where she provides statewide technical assistance to public and private landowners and monitors forest health via aerial and ground surveys.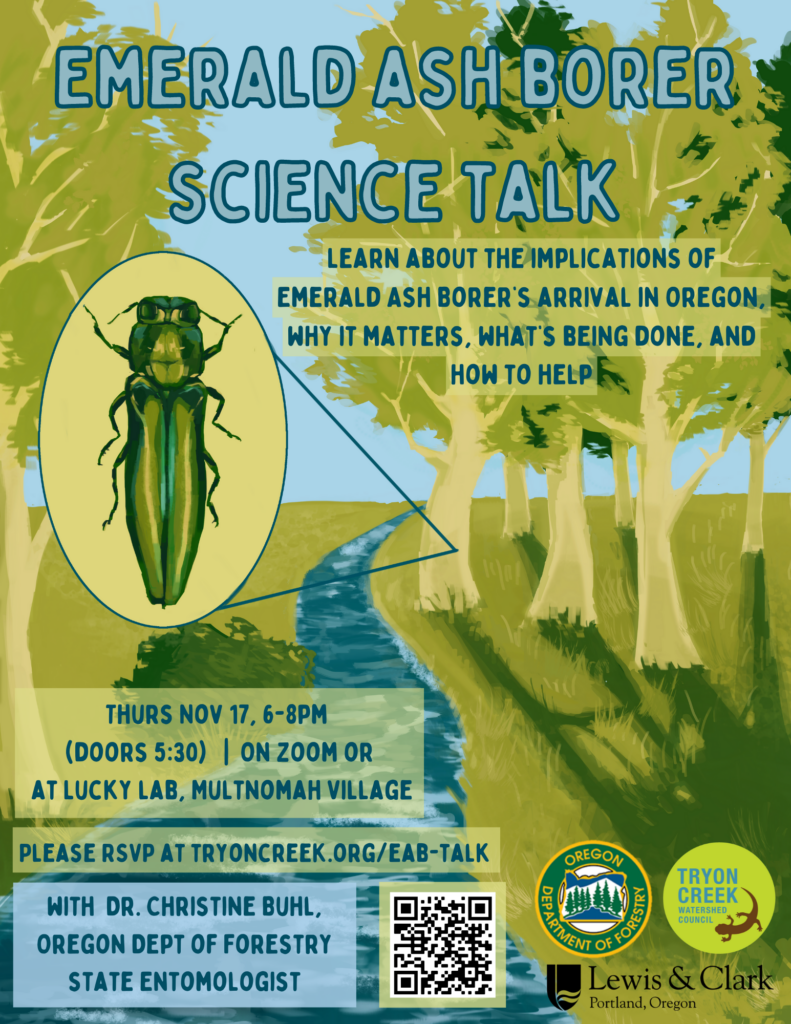 Click here to read our full post about EAB. The Emerald ash borer (EAB) poses a serious, devastating risk due to the high mortality level they impose on ash trees: Oregon ash grows along creeks, providing shade & erosion control. It's likely that you've already seen the news that the Emerald ash borer ("EAB") has been documented in Oregon for the first time, not too far from the Tryon Creek watershed, in Forest Grove. We ask everyone to get to know how to ID Oregon Ash, and to keep your eyes peeled signs of EAB infestation.