A day in the park with ORCAS!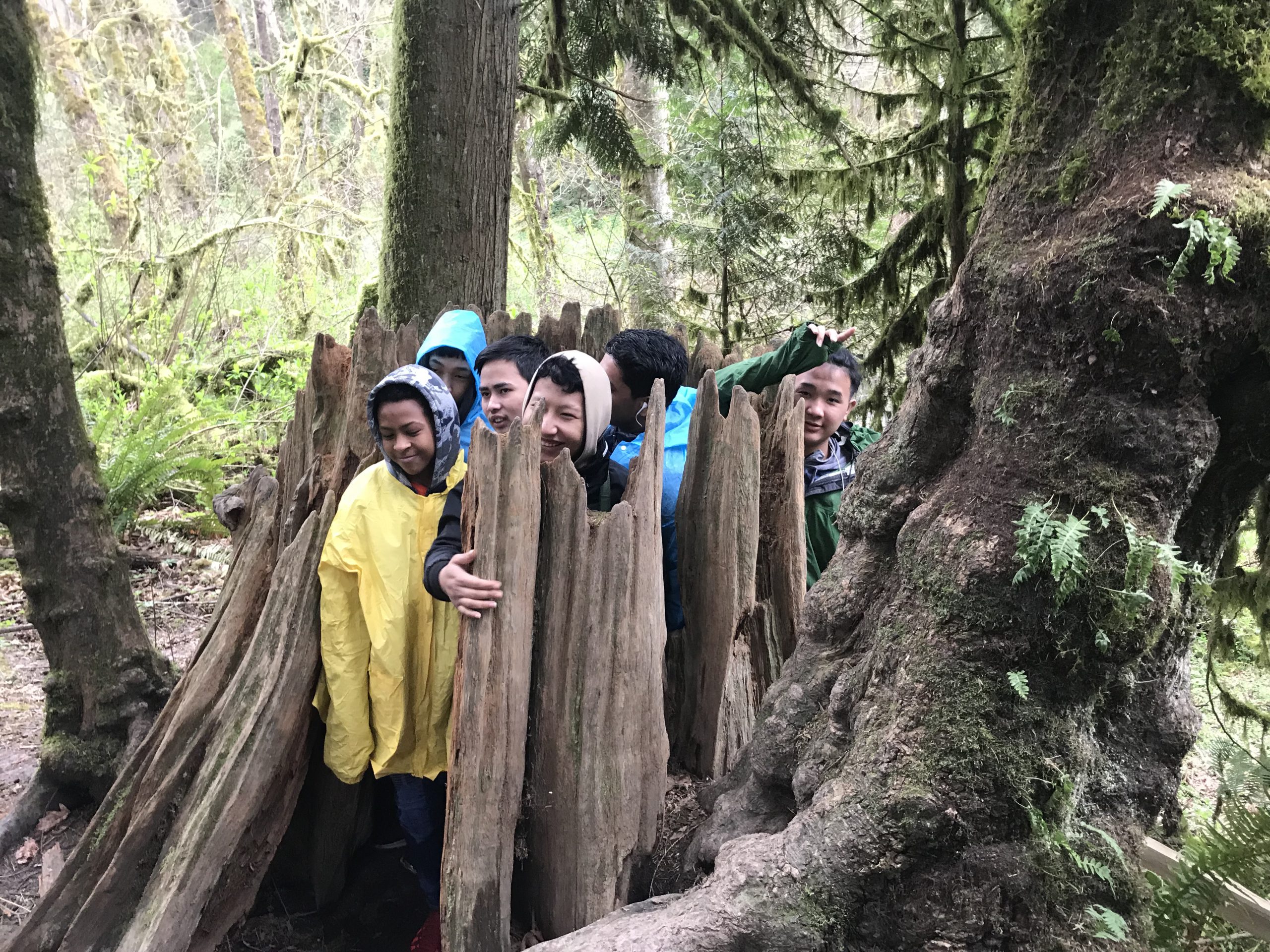 In late March, we welcomed a group from the Oregon Refugee Childrens Assistance Services (ORCAS) to the Tryon Creek State Natural Area.
After the group arrived via paid van rental, we started off the morning in the classroom, where I (Alexis, TCWC's Program Coordinator) introduced general concepts like what watersheds are, and gave an overview on what TCWC does and why. Then Friends of Tryon Creek's Field Trip Coordinator Extraordinaire Erin joined us and brought out Pockets, the resident corn snake. It was neat to see the courage build up in some folks who held her! Then we got suited up in ponchos and rain jackets and went on a hike.
I spent several summers teaching summer camp at the TCSNA, and took the group on my favorite creek-passing loop. We paused many times, to learn about plants like sword fern, stinging nettle, and Indian plum; cultural uses of trees like western red cedar and Douglas fir; tasted licorice fern rhizomes; saw some freshly-made pileated woodpeckers' rectangle-shaped holes and signs of beaver activity; stood on manholes, evidence of the near-development of the area; stood on -and inside!- evidence of the history of logging in the park; and observed nurse stumps, moss, and so on.
At the creek, we looked at the difference in substrates between silty areas and gravel, and I gave an overview of the salmonid life cycle and ways in which the creek can and can't support salmon (gravel = good, culverts = problematic).
During a provided lunch, we talked about our favorite food to eat with injera, a kind sourdough flatbread from the Horn of Africa; where students go to school and how long they've been in Oregon; our opinions about snow, and so on.
After lunch, we pulled English ivy for a bit – as we were getting started, one of the more gregarious students expressed amused disbelief that people do this for fun; when I explained a bit more about how ivy-pulling is a way to give back to and improve the health of the park, he understood perfectly, was on board, and they all jumped in (well, stepped carefully around plants) with enthusiasm. This crowd picked up really quickly on the importance of removing the whole vines, and the piles grew large in no time!
Along the way back up to the Nature Center, one of the students molded mud into faces in the palm of her hand, using fallen needles and foliage fragments for facial features. Then just like that, it was time for the group to head out! This was a really fun day for me personally, and it was awesome to see the students express that they liked the forest. I'm excited to do it again next year; it was an honor to be a part of welcoming these new Oregonians to their new home!
Thanks to Lutheran Community Services NW's programming and continued partnership for this annual event.
Thanks to Bureau of Environmental Services' CWSP (Community Watershed Stewardship Program) for making this day possible – by funding our staff time, the van rental, lunch, and LCSNW's staff time so that students' language groups were represented and accessible.